Jumbo Pets
27 Badgally Rd, Campbelltown, 2560, New South Wales, Australia
Phone: 1300 906 146
Fax: (02) 8079 1138
Email: orders@jumbopets.com
---
URL: http://www.jumbopets.com.au/https://www.jumbopets.com.au/Advantage-Large-10-25kg-Red.html
---
Advantage Large 10-25kg Red
---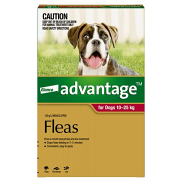 ---
Description
---
Here's a challenge for you:
Take your Advantage Large 10-25kg flea treatment application
Administer the easy spot-on flea treatment to the back of your dog's neck
Try saying "flea free" 10 times fast
By the time you've successfully completed (or given up on) step 3, the fleas on your dog will have already stopped biting, and the flea treatment will be well on its way to killing fleas and their larvae. Advantage is a rapid-onset, convenient flea treatment for dogs that provides month-long protection from fleas, breaks the flea life cycle, helps control lice, and is safe for pregnant/lactating dogs.
Product details
Suitable for large dogs weighing 10-25kg
easy application
takes effect fast
stops the flea life cycle
protection lasts for one month
suitable for pregnant/lactating dogs
reduces incidence of flea allergy dermatitis.