Jumbo Pets
27 Badgally Rd, Campbelltown, 2560, New South Wales, Australia
Phone: 1300 906 146
Fax: (02) 8079 1138
Email: orders@jumbopets.com
---
URL: http://www.jumbopets.com.au/Advocate-Medium-4-10kg-Teal.html
---
Advocate Medium 4-10kg Teal
---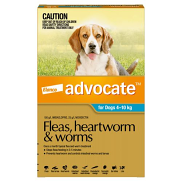 ---
Description
---
Parasites – they're the stealthy, insidious destroyers of your dog's health. Whipworm, roundworm, hookworm, heartworm, ear mites, fleas, lice…not only can they seriously harm your beautiful dog, but some of these nasty ninjas can infiltrate members of your family as well.
Run 'em into the ground with Advocate – one of the most thorough parasite protections for your dog. One easy application will rid your dog of any of the above freeloaders, and regular monthly application will provide ongoing protection from reinfestation. Water-resistant, user-friendly and fast-working, Advocate is the way to go to provide relief for you and your family.
Product details
Treatment recommended for medium-sized dogs 4-10kg
destroys and protects against gastrointestinal worms, heartworm, fleas, ear mites and lice
prevents reinfestation when reapplied monthly
resistant to water
convenient applicator.