Jumbo Pets
27 Badgally Rd, Campbelltown, 2560, New South Wales, Australia
Phone: 1300 906 146
Fax: (02) 8079 1138
Email: orders@jumbopets.com
---
URL: http://www.jumbopets.com.au/https://www.jumbopets.com.au/Bravecto-Medium-10-20kg-Green-Blue-Dog-Flea-Treatment.html
---
Bravecto Medium 10-20kg Green Dog Chew Treatment
---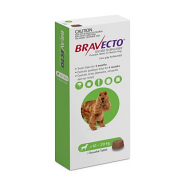 ---
Description
---
One Bravecto Medium 10-20kg Green Dog Chew Treatment is all it takes for your dog to be protected against fleas for three months and ticks for four months. Down the gullet it goes - within eight hours the fleas are starting to struggle; within 24 hours the ticks are going down. That's it. Mess-free, fuss-free, tick-free, flea-free. Yippee.
Product details
For medium-sized dogs weighing 10-20kg
tasty tablet, easy to administer
provides protection from fleas
provides protection from paralysis ticks
not affected by water
safe for breeding/pregnant/lactating dogs
owners should still check for ticks during tick season.