Jumbo Pets
27 Badgally Rd, Campbelltown, 2560, New South Wales, Australia
Phone: 1300 906 146
Fax: (02) 8079 1138
Email: orders@jumbopets.com
---
URL: http://www.jumbopets.com.au/Dentipet-Beef-Toothpaste.html
---
Dentipet Beef Toothpaste
---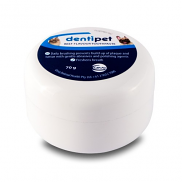 ---
Description
---
We could make all sorts of puns about canines and pawly whites…but to be serious, oral hygiene is the root (hee hee) of good health for our pets. Dentipet Beef Toothpaste helps to prevent dental disease and all that it entails for our pets.
Gentle abrasives and polishing agents do the cleaning, while fluoride strengthens the teeth and sodium pyrophosphates prevent plaque buildup. The oil-free formula also ensures a mess-free, stain-free experience for you and your pet. Which is good news, by gum!
Product details
Toothpaste suitable for cats and dogs
contains gentle abrasives and polishing agents
fluoride strengthens teeth
sodium pyrophosphate prevents plaque buildup
freshens breath
oil-free formula
Dentipet Chicken Toothpaste also available
introduce your pet to a dental hygiene regimen by massaging his teeth and gums with your finger while praising and reassuring him. When he's accustomed to this, try putting a dab of toothpaste on your finger before massaging his teeth and gums. Once this is established, you can introduce the use of a Dentipet Finger Brush.