Jumbo Pets
27 Badgally Rd, Campbelltown, 2560, New South Wales, Australia
Phone: 1300 906 146
Fax: (02) 8079 1138
Email: orders@jumbopets.com
---
URL: http://www.jumbopets.com.au/Eukanuba-Adult-Medium-Breed.html
---
Eukanuba Adult Medium Breed
---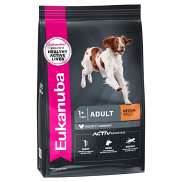 ---
Description
---
Eukanuba Adult Medium Breed is specifically formulated to meet the nutritional needs of all breeds of adult dogs. Moderate protein and fat levels maintain long-term nutritional health, while FOS, a natural prebiotic, supports your dog's defenses from within the digestive tract. This formula also contains an optimal ratio of omega 3 and 6 fatty acids to promote healthy skin and a beautiful coat.
Product details
Recommended for dogs 11-24kg and from 1-7 years of age
specially designed to support the nutritional needs of adult all breed dogs.