Jumbo Pets
27 Badgally Rd, Campbelltown, 2560, New South Wales, Australia
Phone: 1300 906 146
Fax: (02) 8079 1138
Email: orders@jumbopets.com
---
URL: http://www.jumbopets.com.au/Feliway-Cat-Spray.html
---
Feliway Cat Spray
---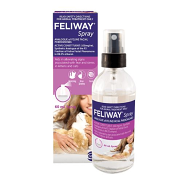 ---
Description
---
Do you have a cat that scratches, yowls, hides or shows other signs of anxiety? Did you know that cats produce a specific scent, completely odourless to humans, when they feel at ease in their environment?
The good news is that Feliway has come up with a synthetic version of this invisible scent marker, and bottled it. Feliway works by 'talking' to your cat in its own language, promoting a sense of familiarity and calmness. If you're a little sceptical, remember that animals have used pheromones to communicate since time immemorial. And rest assured that Jumbo Pets only stocks APVMA-registered products.
Product details
Assists with reducing signs of stress or fear in cats
mimics pheromones produced naturally by cats
promotes a sense of calmness and familiarity.