Jumbo Pets
27 Badgally Rd, Campbelltown, 2560, New South Wales, Australia
Phone: 1300 906 146
Fax: (02) 8079 1138
Email: orders@jumbopets.com
---
URL: http://www.jumbopets.com.au/https://www.jumbopets.com.au/Fido-s-White-and-Bright-Shampoo.html
---
Fido's White and Bright Shampoo
---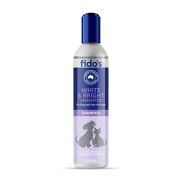 ---
Description
---
Fido's White and Bright Shampoo is a soap-free pH balanced shampoo specifically developed for white and light coloured coats. Optical brighteners add brilliance and shine to the coat without bleaching.
Product details
Enriched with orange and grapefruit essential oils
particularly suitable for use with long term flea treatments
soap free and pH balanced
ideal for white and lighter coloured coats
won't bleach the coat.