Jumbo Pets
27 Badgally Rd, Campbelltown, 2560, New South Wales, Australia
Phone: 1300 906 146
Fax: (02) 8079 1138
Email: orders@jumbopets.com
---
URL: http://www.jumbopets.com.au/https://www.jumbopets.com.au/Fidos-Topizole-Medicated-Shampoo.html
---
Fidos Topizole Medicated Shampoo
---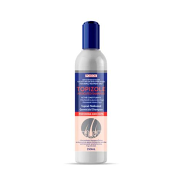 ---
Description
---
Fidos Topizole Medicated Shampoo is for use on dogs and cats with skin conditions that may benefit from the elimination or reduction of bacteria, fungi (ringworm), and yeasts (malassezia), that are responsive to chlorhexidine gluconate and miconazole nitrate. It can be used as a general anti-fungal, anti-bacterial topical shampoo treatment.
Product details
For use on dogs and cats
aids with the treatment of non specific dermatological conditions
veterinary approved medicated germicidal shampoo
cleans and conditions coats
perfume and colour free.