Jumbo Pets
27 Badgally Rd, Campbelltown, 2560, New South Wales, Australia
Phone: 1300 906 146
Fax: (02) 8079 1138
Email: orders@jumbopets.com
---
URL: http://www.jumbopets.com.au/Foobler-Puzzle-Feeder.html
---
Foobler Puzzle Feeder
---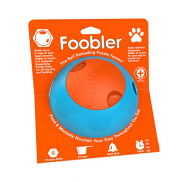 ---
Description
---
There's so much clever packed into this one little ball that it's hard to know where to start. The ingenious Foobler Puzzle Feeder is an interactive toy that dispenses food throughout the day via 6 timer-activated pods. You can set it to release at 15, 30, 60 or 90 minute intervals for up to 9 hours a day. A real metal bell rings when it's time to feed.
The beauty of the Foobler Puzzle Feeder is that it enables controlled feeding – thus eliminating the dangers of overfeeding – and it engages your dog's brain at the same time. Which is perfect if he gets anxious in your absence or needs a distraction. It can hold up to two cups of your dog's food or favourite treats – in other words, a full day's worth of food.
Seriously, they could put M&M's in this thing and leave it in our office…
Product details
Requires 2 x AA batteries (not included).
automatic, self-loading feeder
6 timer-activated pods hold kibbles or treats
pods can be set to release at 15, 30, 60 or 90 minute intervals.