Jumbo Pets
27 Badgally Rd, Campbelltown, 2560, New South Wales, Australia
Phone: 1300 906 146
Fax: (02) 8079 1138
Email: orders@jumbopets.com
---
URL: http://www.jumbopets.com.au/GiGwi-Push-To-Mute-Rugby-Ball.html
---
GiGwi Push To Mute Rugby Ball
---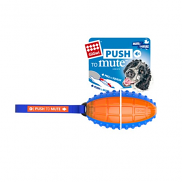 ---
Description
---
It's not often we get to control the level of noise generated by a rugby ball. The GiGwi Push to Mute Rugby Ball, however, can be transformed from a loud, squeaky ball of fun into a completely quiet, soothing plaything for your dog. All with the simplest push or pull of a strap.
Together with its durable thermoplastic construction, bright and vibrant colours and wonderfully textured surface, the GiGwi Push to Mute Rugby Ball delivers endless fun and entertainment for you and your dog.
Product details
Rubber toy for dogs
internal squeak can be turned on and off
tough thermoplastic construction
bright and vibrant colours
textured surface.