Jumbo Pets
27 Badgally Rd, Campbelltown, 2560, New South Wales, Australia
Phone: 1300 906 146
Fax: (02) 8079 1138
Email: orders@jumbopets.com
---
URL: http://www.jumbopets.com.au/Heartgard-Plus-12-22kg-Medium-Green.html
---
Heartgard Plus 12-22kg Medium Green
---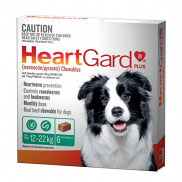 ---
Description
---
Protect the heart of your most precious little heartbeat with Heartgard Plus.
Heartgard Plus is a beef-flavoured chewable that eradicates the larvae of the insidious heartworm. When administered monthly, Heartgard will provide ongoing protection from heartworm, roundworm and hookworm. It's safe for puppies over 6 weeks of age, and for pregnant, lactating and breeding dogs.
Product details
Recommended for dogs weighing 12-22kg
suitable for puppies 6+ weeks old; also suitable for pregnant, lactating or breeding dogs
beef-flavoured chewable
administer monthly for ongoing protection
eradicates heartworm, roundworm and hookworm.