Jumbo Pets
27 Badgally Rd, Campbelltown, 2560, New South Wales, Australia
Phone: 1300 906 146
Fax: (02) 8079 1138
Email: orders@jumbopets.com
---
URL: http://www.jumbopets.com.au/Hills-Prescription-Diet-k-d-Kidney-Care.html
---
Hills Prescription Diet k/d Kidney Care Dry Dog Food
---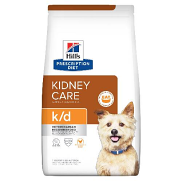 ---
Description
---
The kidney is like a woman: complicated, able to multi-task, sensitive and unique. The kidneys also do a lot of cleaning (not that we're suggesting women do all the cleaning). They remove waste from the blood and control the level of vital fluids and minerals in the body. In other words, they're vital to the ongoing health of your dog.
Dogs often experience kidney problems, particularly as they get older. Hill's Prescription Diet k/d Kidney Care is formulated to help take some of the stress off your dog's kidneys, by supplying high-quality protein and controlled levels of phosphorous and sodium. This formula has been clinically proven to protect the function of the kidneys and boost your dog's overall vitality and health.
Bring his kidneys some flowers and tell them that you love them, with Hill's Kidney Care.
Product details
Dry food formula supports kidney function
has high-quality protein
controlled levels of phosphorous and sodium
boosts overal vitality and health.cat,adult,hill's science diet,food,dry food,indoor