Jumbo Pets
27 Badgally Rd, Campbelltown, 2560, New South Wales, Australia
Phone: 1300 906 146
Fax: (02) 8079 1138
Email: orders@jumbopets.com
---
URL: http://www.jumbopets.com.au/Hills-Prescription-Diet-r-d-Weight-Reduction.html
---
Hills Prescription Diet r/d Weight Reduction Dry Dog Food
---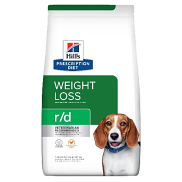 ---
Description
---
Hill's Prescription Diet r/d Weight Reduction has been designed to reduce weight in overweight dogs. Excess weight can have a negative impact on your dog's quality of life. It can affect their mobility and reduce play time while also affecting their general health down the track.
Product details
Nutritionally rich formula that has been designed with a low calorie content
contains a blend of soluble and insoluble fiber to help metabolize fat
will keep your dog feeling full and satisfied
helps to metabolize fat and maintain lean muscle
helps to supports a healthy immune system.