Jumbo Pets
27 Badgally Rd, Campbelltown, 2560, New South Wales, Australia
Phone: 1300 906 146
Fax: (02) 8079 1138
Email: orders@jumbopets.com
---
URL: http://www.jumbopets.com.au/https://www.jumbopets.com.au/Hills-Science-Diet-Active-Adult.html
---
Hills Science Diet Active Adult Dry Dog Food
---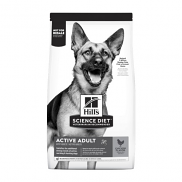 ---
Description
---
Hills Science Diet Active Adult Dry Dog Food provides your hunting and hard-working dog with maximum stamina and recovery for peak performance and endurance. You can be confident your dog will have all the energy needed to reach maximum potential and recover quickly so you can both continue to enjoy your exciting, hardworking days.
Product details
Meets demanding energy needs and provides nourishment for a highly active lifestyle
has an optimal blend of highly digestible protein, fat and carbohydrates to help maintain lean muscle and minimize muscle burn
highest guaranteed levels of natural glucosamine and chondroitin support and maintain healthy joints
clinically proven antioxidants promote a healthy immune system
26.5% highly digestible protein and 23% fat
for adult dogs 1 - 6 years of age with higher energy requirements eg. sporting dogs, working dogs or show dogs.