Jumbo Pets
27 Badgally Rd, Campbelltown, 2560, New South Wales, Australia
Phone: 1300 906 146
Fax: (02) 8079 1138
Email: orders@jumbopets.com
---
URL: http://www.jumbopets.com.au/Hills-Science-Diet-Puppy-Chicken-and-Barley-Entree.html
---
Hills Science Diet Puppy Chicken and Barley Entree Canned Food
---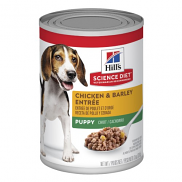 ---
Description
---
Your puppy will love the taste of Hills Science Diet Puppy Chicken and Barley Entree Canned Food. It has all the essential nutrients and energy puppies need to grow up strong and healthy.
Product details
Recommended for puppies up to 1 year old and pregnant or nursing dogs
helps build strong bones and muscles,
helps maintain proper function of nervous and immune systems,
promotes healthy skin and a shiny coat
supplies abundant energy for active puppies while promoting gentle digestion
provides an ideal balance of vitamins and minerals for growing puppies.