Jumbo Pets
27 Badgally Rd, Campbelltown, 2560, New South Wales, Australia
Phone: 1300 906 146
Fax: (02) 8079 1138
Email: orders@jumbopets.com
---
URL: http://www.jumbopets.com.au/Joint-Guard-For-Dogs.html
---
Joint Guard For Dogs
---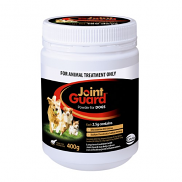 ---
Description
---
There's nothing worse than seeing your dog hurting. Pain and inflammation caused by osteoarthritis and other joint problems mean pervasive and ongoing aches that make it hard for your loyal friend to enjoy life's everyday pleasures.
Give him some relief with Joint Guard, one of Australia's most vet-recommended joint health supplements. It's packed with more glucosamine and chondroitin sulphate per dose than any other joint care product. So you can be sure you're doing everything you can to relieve your dog's daily aches and pains.
Product details
Clinically proven joint care formula
potent dose of glucosamine and chondroitin sulphate
helps to relieve pain and stiffness associated with osteoarthritis and other joint problems
sprinkle on or mix into dog food.