Jumbo Pets
27 Badgally Rd, Campbelltown, 2560, New South Wales, Australia
Phone: 1300 906 146
Fax: (02) 8079 1138
Email: orders@jumbopets.com
---
URL: http://www.jumbopets.com.au/https://www.jumbopets.com.au/Kangaroo-Sticks.html
---
Jumbo Pets Jumbo Treats Kangaroo Sticks
---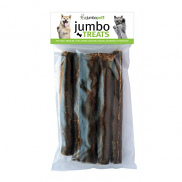 ---
Description
---
This is one stick your dog won't bring back – although he will return for more!
Kangaroo meat is incredibly high in protein, iron and zinc, and it's also low in fat, which makes this a hale and hearty treat or training aid for dogs. Air-dried and free from preservatives, colours and additives, Jumbo Pets Jumbo Treats Kangaroo Sticks are the perfect addition to your treats cupboard.
Product details
Air-dried kangaroo meat
high in protein, iron and zinc
low in fat
easily broken into smaller pieces
each stick approximately 20cm length x 2cm diameter.