Jumbo Pets
27 Badgally Rd, Campbelltown, 2560, New South Wales, Australia
Phone: 1300 906 146
Fax: (02) 8079 1138
Email: orders@jumbopets.com
---
URL: http://www.jumbopets.com.au/Medium-Deshedding-Brush.html
---
Cara Pet Medium Deshedding Brush
---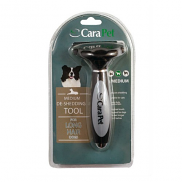 ---
Description
---
Back in the "old days", there was no electricity, no television, no mobile phones, no Beyoncé…and no deshedding brushes. HowEVER did people survive? They would have drowned in boredom and dog hair.
Thankfully, the 21st century has brought us the Cara Pet Deshedding Brush, which works by gently removing those pesky undercoat hairs, without damaging the topcoat or hurting your pet. A fur ejection button makes it easy to clear out the bristles as you go, which makes it a smooth and stress-free experience for you and your pet. Your pet will look and feel better, your house will be free of unwanted hairs, and you'll both be able to sit and watch Beyoncé on TV while texting your friends. Thank goodness for technology.
Product details
Recommended for medium-sized dogs and cats
long-hair brush for pets with hair >5cm long
short-hair brush for pets with hair <5cm long
durable and long-lasting construction
simple to clean.