Jumbo Pets
27 Badgally Rd, Campbelltown, 2560, New South Wales, Australia
Phone: 1300 906 146
Fax: (02) 8079 1138
Email: orders@jumbopets.com
---
URL: http://www.jumbopets.com.au/Natural-Animal-Solutions-Omega-Oil-for-cats.html
---
Natural Animal Solutions Omega Oil for Cats
---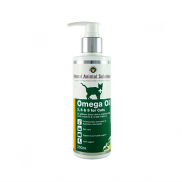 ---
Description
---
Natural Animal Solutions Omega 3, 6 and 9 Oil for Cats is known to nutritionally enhance the skin and coat.
Product details
Contains a specially formulated ratio of oils to provide a rich and natural product for your cat
offers skin and coat support
helps with allergy relief, digestive support and brain function
comes with a handy non-drip pump to make it easy to add to food
Dosage size: 1ml per kilo of body weight. Dosage should be reduced to a quarter after 4 weeks.