Jumbo Pets
27 Badgally Rd, Campbelltown, 2560, New South Wales, Australia
Phone: 1300 906 146
Fax: (02) 8079 1138
Email: orders@jumbopets.com
---
URL: http://www.jumbopets.com.au/https://www.jumbopets.com.au/Natural-animal-solutions-osteoforte.html
---
Natural Animal Solutions OsteoForte
---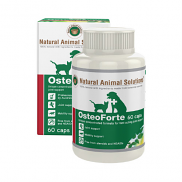 ---
Description
---
OsteoForte by Natural Animal Solutions has been formulated for fast acting pain relief and to help support bone healing. Pain and inflammation can cause changes in behaviour and mobility in your pet. When this occurs, you want something fast-acting with proven results to help get them back to being the happy, active pets you know and love!
Product details
Herbal formula, based on proven ayurvedic herbs
free from steroids and NSAIDs
no artificial fillers, flavours, colours, or preservatives
comes in an easy to administer gel capsule
patented formulation which is constantly well reviewed
provides fast relief from strong pain and inflammation
results can usually be seen in 4-14 days
suitable for cats and dogs of all ages
add to food up to twice daily
Dosage size: Cats: 1/4 capsules x 2 daily, Dogs: Small dogs: 1/4 capsules x 2 daily, 10-15kg: 1 capsule x 2 daily 30kg: 1 capsule x 2 daily, 60kg: 2 capsules x 2 daily *Important note: The easy-dose soft capsule can be easily opened and closed when a dosage of less than 1 capsule is required Dosage may be halved after 14 days. If symptoms persist, remain on original dosage.