Jumbo Pets
27 Badgally Rd, Campbelltown, 2560, New South Wales, Australia
Phone: 1300 906 146
Fax: (02) 8079 1138
Email: orders@jumbopets.com
---
URL: http://www.jumbopets.com.au/NexGard-Medium-10-25kg-Green.html
---
NexGard Medium 10 - 25kg Green
---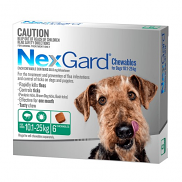 ---
Description
---
If the happy, chop-smacking dog on the packet is anything to go by, NexGard Medium 10 - 25kg Green has put the 'tasty' into flea and tick prevention. NexGard Chewables are the first oral treatment of fleas and ticks – including paralysis ticks – for dogs and puppies. Infused with the long-lasting and effective Afoxolaner, one tablet is enough to keep your dog protected for a month.
Product description
Suitable for dogs 10-25kg in weight
kills fleas, controls ticks
tasty chewable oral tablet
provides protection for one month.