Jumbo Pets
27 Badgally Rd, Campbelltown, 2560, New South Wales, Australia
Phone: 1300 906 146
Fax: (02) 8079 1138
Email: orders@jumbopets.com
---
URL: http://www.jumbopets.com.au/NexGard-Spectra-Medium-7.6-15kg.html
---
NexGard Spectra Medium 7.6-15kg
---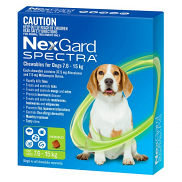 ---
Description
---
Keep your dog protected with NexGard Spectra Medium 7.6-15kg! NexGard Spectra offers the most complete parasite protection on the market. Just one tasty monthly chew will protect your pooch from fleas, ticks, heartworm and intestinal worms.
Product details
One oral chew given once a month
tasty beef flavoured chew that your dog will love
protects against fleas, mites, and ticks
also protects against roundworms, hookworms, whipworm, heartworm and the flea tapeworm
treats and controls demodectic mange, sarcoptic mange and ear mite infestations
not affected by bathing or swimming
safe to be given to puppies over 2kg from 8 weeks of age
consult your veterinarian for advice prior to using this product.