Jumbo Pets
27 Badgally Rd, Campbelltown, 2560, New South Wales, Australia
Phone: 1300 906 146
Fax: (02) 8079 1138
Email: orders@jumbopets.com
---
URL: http://www.jumbopets.com.au/https://www.jumbopets.com.au/Oravet-Dental-Chews-extra-small.html
---
Oravet Dental Chews Extra Small up to 4.5kg
---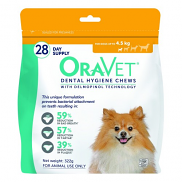 ---
Description
---
Putting a peg on your nose is not going to solve your dog's bad breath. What will work is dealing with the root cause: dental hygiene. Bad breath is most often caused by the build-up of plaque and tartar on your dog's teeth. Left for long enough, poor oral health can have serious consequences for your dog's overall health.
Oravet Dental Chews Extra Small up to 4.5kg are something of a miracle of modern science. Forget regular, expensive teeth cleaning at your local vet's, or grappling with a toothbrush and a recalcitrant dog. One dental chew a day is all it takes.
The act of chewing helps to 'brush' his teeth and remove the plaque, while the active ingredient delmopinol creates a barrier that stops bacteria from coating your dog's teeth and building up into plaque and tartar. No mess, no fuss, and no dog-pongy breath.
Product details
Dog chews for dental hygiene
mechanical abrasion 'brushes' teeth
active ingredient delmopinol prevents plaque-forming bacteria
administer daily for optimum effect
low in calories.