Jumbo Pets
27 Badgally Rd, Campbelltown, 2560, New South Wales, Australia
Phone: 1300 906 146
Fax: (02) 8079 1138
Email: orders@jumbopets.com
---
URL: http://www.jumbopets.com.au/https://www.jumbopets.com.au/PAW-Osteosupport-Joint-Care-dogs.html
---
Paw Osteosupport Joint Care for Dogs
---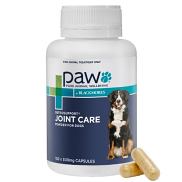 ---
Description
---
Paw Osteosupport is an effective anti-flammatory to relieve joint pain associated with osteoarthritis in dogs. Osteosupport has been shown to improve your pets mobility in just 3 weeks.
Made from 100% natural green lipped mussel powder

has a high concentration of omega 3 (EPA/DHA ETA), anti - oxidants and essential nutrients for joint health

can be given whole, or opened and sprinkled on food

for dogs displaying the clinical signs of arthritis: e.g. lameness, reluctance to rise, reduced mobility
can be given as an adjunct with pharmaceutical pain relief for dogs. eg. NSAIDs
proven to provide relief from arthritis symptoms.