Jumbo Pets
27 Badgally Rd, Campbelltown, 2560, New South Wales, Australia
Phone: 1300 906 146
Fax: (02) 8079 1138
Email: orders@jumbopets.com
---
URL: http://www.jumbopets.com.au/https://www.jumbopets.com.au/Royal-Canin-Adult-Exigent-Savour-Sensation.html
---
Royal Canin Adult Exigent Savour Sensation
---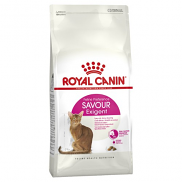 ---
Description
---
Does your cat turn into a Chairman Meow when you try and present it with food – stubbornly resisting all appeals to logic and rationality? For some owners, to say that some cats are a bit fussy about their food is like saying the ocean is a little bit watery. It's a vast understatement – and it doesn't acknowledge the extreme efforts and anxiety that owners of fussy cats undergo to ensure their pet is getting adequate nutrition.
Royal Canin acknowledges it, and has developed Savour Sensation - the first cat food to combine two different formulas in one bag. It creates a double-whammy of taste, and balances protein and fat levels to increase palatability and entice your cat to the bowl. The variety of shape, texture and formula in the one meal is sure to increase its appeal and satisfy your cat's cravings, while also addressing her health and nutritional well-being.
Product details
For fussy cats from 1 to 7 years who choose their food based on texture and taste
made with two different kibbles to provide variety of texture and shape
balances protein and fat levels to increase palatability
enhances health of skin and coat
assists with the maintenance of optimum body weight.