Jumbo Pets
27 Badgally Rd, Campbelltown, 2560, New South Wales, Australia
Phone: 1300 906 146
Fax: (02) 8079 1138
Email: orders@jumbopets.com
---
URL: http://www.jumbopets.com.au/https://www.jumbopets.com.au/Royal-Canin-Ageing-12-Years-in-Jelly.html
---
Royal Canin Ageing 12+ Years in Jelly
---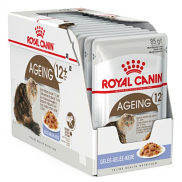 ---
Description
---
We can't give our ageing cats a blanket for their knees or a splash of brandy in their coffee, but we can give them a diet that caters to their changing dietary needs.
Royal Canin Ageing 12+ Years provides high levels of EPA and DHA fatty acids to support senior cats' joint health as they grow older, and phosphorous to strengthen their renal system. The thinly sliced portions of meat are ensconced in jelly for palatability and easy digestion, ensuring your cat takes on all the nutrients she needs for long-lasting good health.
Product details
For senior and mature cats aged more than 12 years
includes EPA and DHA fatty acids for joint health
contains high levels of phosphorous for renal health
thinly sliced portions in jelly enable easy digestion.