Jumbo Pets
27 Badgally Rd, Campbelltown, 2560, New South Wales, Australia
Phone: 1300 906 146
Fax: (02) 8079 1138
Email: orders@jumbopets.com
---
URL: http://www.jumbopets.com.au/Royal-Canin-Feline-Indoor-Mature-7.html
---
Royal Canin Adult Indoor 7+
---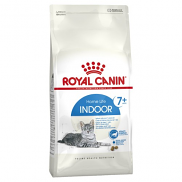 ---
Description
---
For those of us who are middle aged or older, the feeling of not-being-young-anymore is tangible and regretful. The muscles aren't as sprightly, the inner workings make themselves known when we mistreat them with late nights or neglected diet, and the joints creak and groan a lot more than they used to. It's the same for our older cats – particularly those who spend their time indoors - and while we can't send them on age-defying retreats or buy them a Porsche, we can help them fight the effects of ageing with a decent diet.
Royal Canin Feline Indoor 7+ is for mature cats aged 7 and older. It includes a unique blend of quality antioxidants that help to maintain your cat's vim and vigour, while reduced phosphorous and sodium are gentle on the kidneys and heart. High levels of digestible protein support the digestive system, and a softer and more palatable kibble addresses older teeth and loss of appetite.
Product details
For indoor cats aged 7-12 years old
includes antioxidants to restore vitality
reduced phosphorous and sodium are gentle on kidney and liver
digestible protein supports digestion
omega 6 fatty acids nourish coat
glucosamine and chondroitin support joints
softer, more palatable kibble for sensitive teeth and gums.