Jumbo Pets
27 Badgally Rd, Campbelltown, 2560, New South Wales, Australia
Phone: 1300 906 146
Fax: (02) 8079 1138
Email: orders@jumbopets.com
---
URL: http://www.jumbopets.com.au/Royal-Canin-Maxi-Ageing-8-Years.html
---
Royal Canin Maxi Ageing 8+ Years
---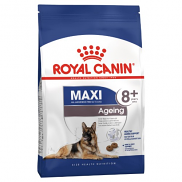 ---
Description
---
Ageing affects us all, including our furry friends. The Royal Canin Maxi range of products targets the specific needs of dogs weighing 25-44kg. In this particular product, Royal Canin focuses on providing an exclusive blend of antioxidants to help neutralise free radicals, as well as nutrients that target large-breed dogs' bones and joints that are placed under stress. A carefully adapted fibre content aims to help older dogs' digestion and stool quality, while specific nutrients continue to nourish healthy skin and coat. With Royal Canin Maxi, you can be sure your mature-aged dog is getting all the nutrients he needs for long-lasting health.
Product details
Designed for dogs 26-44kg and 8+ years of age
supports healthy ageing
fortifies the immune system
promotes healthy bones and joints
nourishes skin and coat
encourages healthy digestion and good stool quality.