Jumbo Pets
27 Badgally Rd, Campbelltown, 2560, New South Wales, Australia
Phone: 1300 906 146
Fax: (02) 8079 1138
Email: orders@jumbopets.com
---
URL: http://www.jumbopets.com.au/Royal-Canin-Mini-Junior-Puppy.html
---
Royal Canin Mini Puppy
---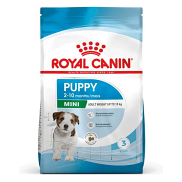 ---
Description
---
Your little mini mini needs dietary TLC in the first 7-10 months of his life, as his digestive system and jaw are still underdeveloped, and his immune system is vulnerable as he loses the natural immunity bestowed upon him by his mother's milk. Royal Canin Mini Junior formula is the most palatable dry food in the Royal Canin range, in order to help your puppy take on the nutrients he needs to grow.
Product details
Formulated for small-breed puppies (adult weight up to 10kg) up to 10 months old
exclusive blend of nutrients supports developing digestive system
antioxidants support and strengthen natural defences
high protein and high energy supply growth needs
kibble encourages chewing and promotes dental health.