Jumbo Pets
27 Badgally Rd, Campbelltown, 2560, New South Wales, Australia
Phone: 1300 906 146
Fax: (02) 8079 1138
Email: orders@jumbopets.com
---
URL: http://www.jumbopets.com.au/Royal-Canin-Veterinary-Diet-Canine-Neutered-Medium-Adult.html
---
Royal Canin Veterinary Diet Canine Neutered (Medium) Adult
---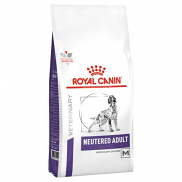 ---
Description
---
When your newly neutered dog comes home from the vet, he'll be different. Not only will there be a reproachful, somewhat betrayed look in his eyes for a few days, but his dietary needs will have changed overnight.
Neutered dogs burn less energy, which leaves them at risk of obesity and associated diseases. Royal Canin Veterinary Diet Canine Neutered Medium Adult takes this in its stride by providing a special blend of fibres, and high-protein, low-fat ingredients that make your dog feel full despite ingesting fewer calories. Combined with Royal Canin's usual commitment to top-quality nutrition, this is a complete and balanced, premium diet for your neutered dog.
Make it back into your dog's good books with Royal Canin.
Product details
For medium-breed (11-25kg) adult (12 months-7 years) neutered dogs
high-protein, low-fat dry food
helps protect against obesity
maintains healthy joints.