Jumbo Pets
27 Badgally Rd, Campbelltown, 2560, New South Wales, Australia
Phone: 1300 906 146
Fax: (02) 8079 1138
Email: orders@jumbopets.com
---
URL: http://www.jumbopets.com.au/https://www.jumbopets.com.au/Royal-Canin-Veterinary-Diet-Feline-Renal-Fish-Pouches.html
---
Royal Canin Veterinary Diet Feline Renal Fish Pouches
---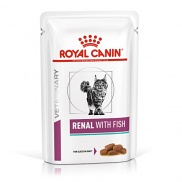 ---
Description
---
Royal Canin Veterinary Diet Feline Renal Fish Pouches contain a wet-food formula specifically designed to cater to the nutritional needs of cats with chronic or temporary renal insufficiency. Low levels of phosphorous and high-quality protein ensure a reduced workload for the kidneys, while low levels of calcium and vitamin D, as well as special urine alkalising properties, help to reduce the formation of stones.
This dietetic formula is suitable for cats with chronic kidney disease, as well as for prevention of recurrence of uroliths (stones). It is not recommended for pregnant or lactating cats. This is a specialised formula – please consult with your veterinarian before starting or continuing your cat on this diet.
Product details
Dietetic support for cats with temporary or chronic renal insufficiency
not recommended for pregnancy/lactation/growth
reduces kidney workload
helps to reduce stone formation
aromatic chunks in gravy help to overcome food aversion
to be used as per veterinarian's recommendations.