Jumbo Pets
27 Badgally Rd, Campbelltown, 2560, New South Wales, Australia
Phone: 1300 906 146
Fax: (02) 8079 1138
Email: orders@jumbopets.com
---
URL: http://www.jumbopets.com.au/Royal-Canin-Veterinary-Diet-Neutered-Junior-Large-Dog.html
---
Royal Canin Veterinary Diet Neutered Junior Large Dog
---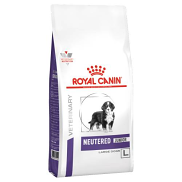 ---
Description
---
Many dog owners believe in the advantages of neutering dogs – among them, eliminating the risk of being overrun with puppies, and avoiding the sight of your usually well-behaved dog showing his…er….love…for trees, people's legs and other dogs.
However, it's important to be aware of the way your dog's dietary needs change once he's neutered. For instance, although he may feel hungrier, he actually needs less calories. This is the reason neutered dogs are at a much higher risk of obesity and its associated diseases.
Royal Canin's Neutered range of Vet Diet products cater specifically to the nutritional needs of neutered dogs. It combines a low-calorie formula with ingredients that promote a feeling of fullness, thus helping your dog maintain a healthy weight. The Neutered Junior Large includes ingredients that help support the swift growth of your large-breed dog, as well as focusing on the health of his immune system, digestion, and skin and coat.
Product details
For neutered large-breed puppies, with an adult weight of 24-44kg and an age of less than 15 months
helps reduce the risk of obesity
provides nutrients for healthy growth
includes joint support targeting large-breed dogs
promotes healthy digestion, immunity, and skin and coat.