Jumbo Pets
27 Badgally Rd, Campbelltown, 2560, New South Wales, Australia
Phone: 1300 906 146
Fax: (02) 8079 1138
Email: orders@jumbopets.com
---
URL: http://www.jumbopets.com.au/Seresto-Flea-collar-for-Kittens-and-Cats.html
---
Seresto Flea and Tick Collar for Kittens and Cats
---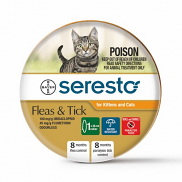 ---
Description
---
Do fleas follow the latest news on the flea-control market? Is there a flea grapevine, where they share intel on products? If there was, they'd all be talking about the new Seresto Flea Collar for Kittens and Cats. It's incredibly long-lasting – remaining effective for up to 8 months – and it's efficient, exterminating fleas within 24 hours and killing fleas in the cat's immediate surroundings as well. If that doesn't spread the word within the flea community, nothing will.
Product details
Flea and tick collar for kittens and cats
effective within 24 hours of wearing
lasts for 8 months
odourless, non greasy and easy to use
active constituents: imadacloprid and flumethrin
not recommended for pregnant/lactating cats
collar is equipped with a break free, release mechanism that is easily triggered by your cat or kitten if they get snagged or caught when out and about.