Jumbo Pets
27 Badgally Rd, Campbelltown, 2560, New South Wales, Australia
Phone: 1300 906 146
Fax: (02) 8079 1138
Email: orders@jumbopets.com
---
URL: http://www.jumbopets.com.au/https://www.jumbopets.com.au/greenies-dental-treat-blueberry-petite.html
---
Greenies Blueberry Dental Treats Petite
---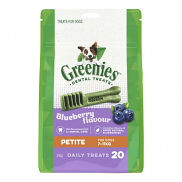 ---
Description
---
Greenies are the #1 vet recommended dental chew and are proven to reduce plaque and tartar build up, freshen breath and maintain healthy gums when fed daily. Greenies dental chews in blueberry flavour are an all-natural dental-disease-fighting dog treat. They're hard enough to get rid of plaque buildup without damaging your dog's teeth. They also freshen your dog's breath (quite a feat), reduce oral bacteria, and are proven to reduce bad breath and oral bacteria and improve digestion.
Not only that, but they're nutritionally beneficial as well, with high-quality proteins, vitamins and minerals, and natural sources of antioxidants and fibre. They're basically a dental superhero masquerading as a dog treat. Dental avengers, assemble!
Product details
20 dog treats in a 340g pack
petite size is for dogs 7–11kg
removes plaque buildup
diminishes gingivitis
promotes fresher breath
reduces the risk of dental disease.