Jumbo Pets
27 Badgally Rd, Campbelltown, 2560, New South Wales, Australia
Phone: 1300 906 146
Fax: (02) 8079 1138
Email: orders@jumbopets.com
---
URL: http://www.jumbopets.com.au/hills-prescription-diet-w-d-multi-benefit-dry-cat-food.html
---
Hills Prescription Diet w/d Multi-Benefit Dry Cat Food
---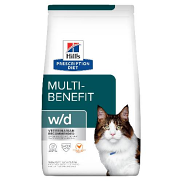 ---
Description
---
Hills Prescription Diet w/d Multi-Benefit Dry Cat Food has been designed to help maintain your cat's healthy weight. Overweight pets are at risk for many potential health problems and can even have a reduced lifespan. This is why it's so important to keep your pets weight at a healthy level.
Product details
Low fat recipe that has been formulated with an optimal blend of soluble and insoluble fiber to help metabolize fat and maintain lean muscle
contains a blend of antioxidants to keep your cat's immune system in top shape.