Jumbo Pets
27 Badgally Rd, Campbelltown, 2560, New South Wales, Australia
Phone: 1300 906 146
Fax: (02) 8079 1138
Email: orders@jumbopets.com
---
URL: http://www.jumbopets.com.au/royal-canin-cocker-spaniel-puppy.html
---
Royal Canin Cocker Spaniel Puppy
---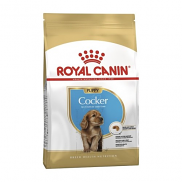 ---
Description
---
The term 'cocker' comes from this breed's initial use for hunting woodcocks. Although woodcocks can now consider themselves safe around the Cocker Spaniel, the breed has maintained its reputation for outstanding physical abilities. The Cocker Spaniel also has a tendency to display a sensitive digestive and immune system, and sensitive skin. Royal Canin knows all of this, and has formulated Cocker Spaniel Puppy to ensure optimal digestion, joint support and strong natural defences. Enriched with borage oil, it also helps support the skin's optimal Ph level and maintain the glossy beauty of the Cocker Spaniel's coat.
Product details
Recommended for puppy English or American Cocker Spaniels under 12 months
helps maintain ideal weight
supports heart health
supports the skin's 'barrier' role and nourishes the coat.