Jumbo Pets
27 Badgally Rd, Campbelltown, 2560, New South Wales, Australia
Phone: 1300 906 146
Fax: (02) 8079 1138
Email: orders@jumbopets.com
---
URL: http://www.jumbopets.com.au/https://www.jumbopets.com.au/royal-canin-shih-tzu-puppy.html
---
Royal Canin Shih Tzu Puppy
---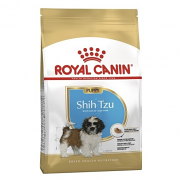 ---
Description
---
We Shih Tzu not, Royal Canin knows how to look after dogs. Aside from being the butt of many a bad joke, Shih Tzus often suffer from sensitive skin, and their long, flowing coat benefits greatly from special nutritional attention. Royal Canin's Shih Tzu Puppy formula is infused with EPA and DHA to reduce the potential for skin irritation, along with a patented antioxidant complex to support and strengthen the skin's role as barrier.
Product details
Designed to cater to the specific needs of puppy Shih Tzus, aged under 0 months
reduces potential for skin sensitivities
supports and strengthens the skin's "barrier" role
enhances the beauty of the coat
kibble shape caters to the jaw structure and reduces dental plaque build-up.