Jumbo Pets
27 Badgally Rd, Campbelltown, 2560, New South Wales, Australia
Phone: 1300 906 146
Fax: (02) 8079 1138
Email: orders@jumbopets.com
---
URL: http://www.jumbopets.com.au/https://www.jumbopets.com.au/royal-canin-veterinary-diet-feline-early-renal.html
---
Royal Canin Veterinary Diet Feline Early Renal
---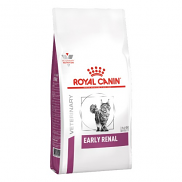 ---
Description
---
Royal Canin Veterinary Diet Feline Early Renal is formulated to support renal function in the case of chronic renal insufficiency.
Product details
Formula is recommended when the cat is diagnosed in CKD stage 1 or early stage 2 and non-proteinuric
cats may remain on Early Renal until creatinine elevates outside of reference ranges - then the cat should be switched to a Renal diet
formulated with EPA and DHA, an antioxidant complex and a moderate phosphorus content to help support renal health at the first signs of impairment.
contains nutrients including antioxidants, chondroitin and glucosamine, and an adapted L-tryptophan ratio, to help fight the early signs of ageing
highly digestible with balanced fibres, including prebiotics, to support healthy digestion and gastrointestinal transit.