Jumbo Pets
27 Badgally Rd, Campbelltown, 2560, New South Wales, Australia
Phone: 1300 906 146
Fax: (02) 8079 1138
Email: orders@jumbopets.com
---
URL: http://www.jumbopets.com.au/sashas-blend-joint-health-powder-for-dogs.html
---
Sashas Blend
---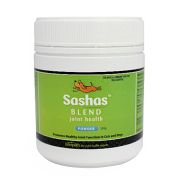 ---
Description
---
Sashas website sports pictures of cats and dogs juggling whilst standing on one foot…we can't promise that kind of outcome, but Sashas Blend certainly assists with your dog's mobility and vitality. It does so by helping maintain the fluid that cushions joints, and suppressing the production of nitric oxide, which can contribute to the pain and breakdown of healthy joints.
Sashas Blend is an all-natural formula that includes green-lipped mussel, abalone and marine cartilage – the sourcing of which meets international conservation requirements. Sashas Blend brings proven relief to painful joints – the juggling training is up to you.
Product details
All-natural support for joint health
promotes growth of healthy cartilage
maintains synovial fluid
suppresses production of nitric oxide
powdered form to be mixed with food or drink
refer to label for dosage information and instructions
no additives or fillers.