Jumbo Pets
27 Badgally Rd, Campbelltown, 2560, New South Wales, Australia
Phone: 1300 906 146
Fax: (02) 8079 1138
Email: orders@jumbopets.com
---
URL: http://www.jumbopets.com.au/Drontal-Allwormer-Chew-Large-10-35kg.html
---
Drontal Allwormer Chew Large 10-35kg
---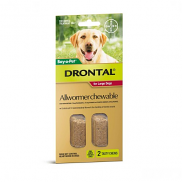 ---
Description
---
There's a nasty little army of worms out there, just waiting to infiltrate your dog's intestines and wreak all kinds of havoc. Roundworm, hookworm, whipworm, tapeworm…they sound like gang names. But this particular Worm Gang has met its match with Drontal Allwormer chewable tablets for dogs, which kills 12 different types of gastrointestinal worm and remains effective for between six weeks and three months, depending on what you're treating for.
Win the worm battle with Drontal Allwormer tablets – fast, easy relief for your dog and your family.
Product details
Recommended for dogs weighing 35kg+
controls 12 types of gastrointestinal worm
treat according to product label
tablets made with real liver for palatability
safe for use on pregnant and lactating dogs (see package for more information)
gentle, effective and fast-acting.