Jumbo Pets
27 Badgally Rd, Campbelltown, 2560, New South Wales, Australia
Phone: 1300 906 146
Fax: (02) 8079 1138
Email: orders@jumbopets.com
---
URL: http://www.jumbopets.com.au/https://www.jumbopets.com.au/Royal-Canin-Veterinary-Diet-Feline-Neutered-Young-Male.html
---
Royal Canin Veterinary Diet Feline Neutered Young Male
---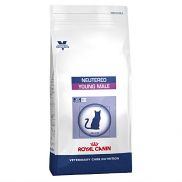 ---
Description
---
There are plenty of positive effects that come from neutering your cat – such as longer life expectancy and more sociable behaviour (just not with the lady cats). But your cat's dietary needs change the instant he gets home from the vet. According to Royal Canin's research, within 48 hours of surgery your cat's energy needs plummet while his appetite increases. And we all know where that particular combination leads: unwanted and potentially unhealthy weight gain.
Royal Canin has developed its Neutered Young Male formula specifically to address the dietary needs of neutered cats up to the age of 7 years old. A moderated starch content promotes a feeling of fullness while reducing the risk of weight gain, while higher protein levels promote lean body mass. And the formula also takes care to address all the usual nutrition needs of your cat, such as urinary tract health.
Product details
Complete and balanced diet for male neutered cats up to 7 years of age
addresses risk of weight gain
promotes a feeling of fullness
promotes lean body mass
addresses all-round nutritional needs.