Jumbo Pets
27 Badgally Rd, Campbelltown, 2560, New South Wales, Australia
Phone: 1300 906 146
Fax: (02) 8079 1138
Email: orders@jumbopets.com
---
URL: http://www.jumbopets.com.au/https://www.jumbopets.com.au/aristopet-spot-on-treatment-for-dogs-10-25kg.html
---
Aristopet Spot-on Treatment for Dogs 10-25kg
---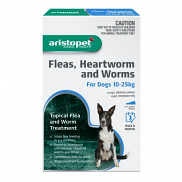 ---
Description
---
Aristopet Spot-on Treatment for Dogs 10-25kg is an effective solution for those who want to provide the best care for their pet, for the best value. Fast and effective all-in-one protection against fleas, intestinal worms, heartworms and ear mites.
Product details
Fast and effective all-in-one protection
spot on tube has a precision nozzle to apply directly onto the skin
each application provides one-month protection for your dog
stops flea feeding in 3-5 minutes
prevents heartworm and controls intestinal worms and larvae
treats and controls lungworm and ear mites
water resistant formulation
apply once a month for full month protection
suitable for dogs weighing 10-25kg
safe for use in puppies from 7 weeks of age.